Sometimes users of Adobe products on both Windows and Mac may receive pop-up messages on the screens of their devices that warn them that the software solutions they're using are not genuine. It's possible to see this warning message even when you're sure the Adobe software you purchased is legitimate. In most cases, the messages will keep appearing on your screen repeatedly, especially after ignoring the alert by clicking on the REMIND ME LATER button. The frequent pop-ups can be very annoying and distracting when trying to execute urgent processes on your device. Thankfully, there are workarounds on how to disable Adobe genuine software integrity service on Mac and Windows personal computers and continuing with whatever you were doing.
What is Adobe's Genuine Software Integrity Service?
Adobe Suite is a widely used program for creating and editing videos and photos. With the increasing usage of these innovative products, the demand for better protection technologies increases. Adobe is now tracking down whether or not the Adobe software solution installed on personal computers is legitimate.
This helps in identifying genuine users and discourages people from revealing personal details. The brand employs different technologies to track down each user. If it finds out that the software product is hacked or that your account is stolen, it will notify you that the product is not genuine. Moreover, users can also see a verification process running in their task manager or activity monitor due to the Adobe Genuine Service (AGS). It does not matter if you are using a Mac or a Windows PC.
AGS helps you ensure that the software you are using is legitimate software that Adobe developed. This means that it will only notify you when the software installed on your computer is not legitimate. Using software that looks like it's made or licensed by Adobe but really is not could cause several problems. 
Some of the risks associated with using fake Adobe products on your computer include running into malware or viruses that can harm your PC or cause your data to be lost or corrupted. It also increases the chance that your software may not work properly, something neither you nor Adobe wants to happen.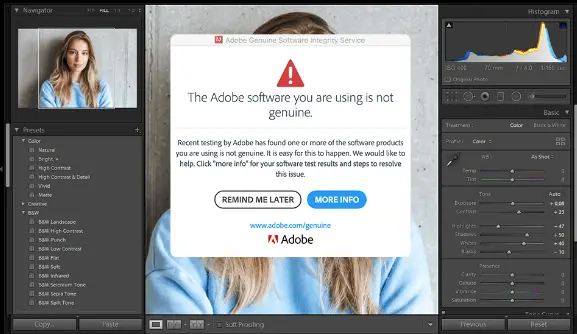 How to Deal With "The Adobe Software You're Using is Not Genuine" Error
Adobe performs several checks to verify that the user is authentic. If the system detects that your account is being used by someone else, then it assumes that the account has been compromised and that the user hasn't accepted any of the licensing terms. But recently, more and more users have been receiving the error message even though they have purchased legitimate Adobe products. An error message appears if a product or suite isn't purchased from Adobe.com.
Adobe wants you to buy your software legally and to make sure that you are not using software that has been pirated. It is possible that you may not be affected by doing that for yourself, but if you are using the software to do work for your company, it could cause some real legal issues for your business.
Understandably, some people think that downloading software that looks legitimate is perfectly reasonable, even though it is not. Adobe is trying to warn you about the scams going on and not penalize you for not knowing. The software provider is just trying to notify you that something is wrong and that they have taken the necessary steps to fix it. Even if you know that the software you are using is legit, you may still be seeing these messages. Adobe has taken this very seriously and has provided a way to uninstall this service easily by following the right steps.
How do I disable Adobe integrity in Windows?
Try out the following three options to get rid of that annoying pop-up on windows and start working seamlessly on your Adobe suite of products!
Options One: Install Official Adobe Genuine Version
Usually, the error occurs when people buy Adobe software from unofficial sources. In these cases, Adobe flags the software as not genuine. You will be inconvenienced in one way or the other if Adobe products are not genuine. Therefore, you should search the Adobe website to find the necessary software. Once you find the product, simply download it and follow the installation instructions to start enjoying your new adobe product.
Option Two: Disable via Services
This is a very simple process of disabling the annoying Adobe messages for Windows users. So, if you're on Windows 7, 8, and 10, you can disable the pop-ups without deleting the software. Follow these simple steps:
Type "Services" in your search bar box
Click on the "Standard" tab from the list of services that appears.
Right-click on the" Adobe Genuine Software Integrity Service." You'll find it on the alphabetical list that appears on your right side of the screen. Next, open up the context menu and select" Properties."
Change the startup option to "Disabled" under the General tab and click on the "Apply" button.
Restart your computer once done and launch the Adobe program to see whether the pop-up has been disabled.
Option 3 Disable Via Task Manager
This is one of the other most common ways for users to disable the pop-up message and remove all the components that are causing it. Follow these steps:
Type "Task Manager" on your search bar box to open up a window
Click on the "Processes" tab to access "Adobe Genuine Software Integrity Service."
Open the context menu by right-clicking on the AGS tab and selecting "Open file location" to access the "AdobeGCClient" folder.
Without closing the folder, head back to Task Manager, right-click on the AGS tab, and click on" End Task."
Go back to the "AdobeGCClient" folder and erase it.
Restart your PC to check whether the problem has been disabled.
Here is a quick video that demonstrate the same process:
How do I stop the Adobe integrity service on Mac?
Although the service is no different for Mac users as compared to those on Windows, the steps of getting rid of the pop-up message and its components are quite different:
Click on "Go" on the Finder App in the navigation bar.
Click on "Go to Folder"
If you're on the latest navigation app, you'll need to click on "Go" and Type "~/library" to access the library.
Click "Application support" to access "Adobe" and then "AdobeGCCClient."
Disable the service by deleting the whole folder and proceeding to clear it even in the trash. 
This simple and easy-to-follow procedure will ensure you get rid of the distracting Adobe genuine software integrity service on your Mac machine and enjoy doing what you were doing on the computer flawlessly.
Is Removing The Popup Message Safe?
AGS is a service that Adobe uses to help you avoid downloading and installing corrupt software. So, are you wondering whether it is safe to remove the pop-up message? Or does it protect your computer from malware and virus attacks?
The short answer is no. You do not need this service. While it tells you when the software you are downloading is not legitimate, it is not really doing anything to protect you from viruses or other malware. It would be best if you still used your computer's firewall and antimalware software to protect your computer from viruses and malware. 
AGS only lets you know that the software you are installing has an issue – most of the time, it is not even true. This tells you when the software is not working properly, but it is annoying if you are trying to do some other work with the software. If you want to remove the service, Adobe states that it is safe, and they even provide you with a tool to help you uninstall it.
Will the AGS Show Again?
When you install new products from Adobe, you will often receive a pop-up or notification asking if you want to enable AGS. If you click Yes, it will install it. If you see a window that asks you if you want to install AGS, make sure that you choose no or that you uncheck the box that says that you want to install it. If you agree to check the AGS, you may have to uninstall or execute the removal process all over again. Just keep in mind that after you install a new version of Adobe software or if you update a software product, if you are not able to opt out of that, you will likely see this warning again.
Wrap Up
The Adobe Genuine Software Integrity Service pop-up message you usually receive on your windows or mac machine is meant to protect users from malicious internet users and make sure they purchase legit Adobe products. In other words, the integrity service message ensures you're not using software containing viruses and malware that has been improperly modified. So, you can simply disable the pop-ups or messages from Adobe if you're sure the products you've installed are legit. Adobe has no problem with users who disable these messages on their devices.