Smart social media influencers and digital marketers know the value of understanding the behavioral patterns of their followers. This is extremely important for tech-savvy social media users who want to clearly understand their followers' demographics so that they can customize their Instagram posts to suit the specific interests of their audiences. Being able to download and export your IG followers list is a safe way of protecting your followers against policy changes. Unfortunately, Instagram doesn't offer a native feature for the same purpose. Thankfully, there is an effective workaround you should try out. Read on to learn more.
How do I download my Instagram following list?
If you're reading this page, then you might be searching for a way to export all IG followers lists of your Instagram account (or any other profile). In the past. It was very easy to download/export a list of followers from IG: you click a link, and when the pop-up with the list of users opens, you were simply supposed to copy and paste your list of followers. Trying to do the same today will give you confusing data that you might not be able to actually make out! Working with a file that contains too much information, such as the status of a particular account along with the usernames of followers, can indeed be too complex to work with.
Fortunately, many tools allow Instagram influencers or ordinary users to export Instagram followers to a CSV file with all their subscribers in it. You can choose two options to export Instagram followers to a CSV file.
Using Google Chrome (IGExport)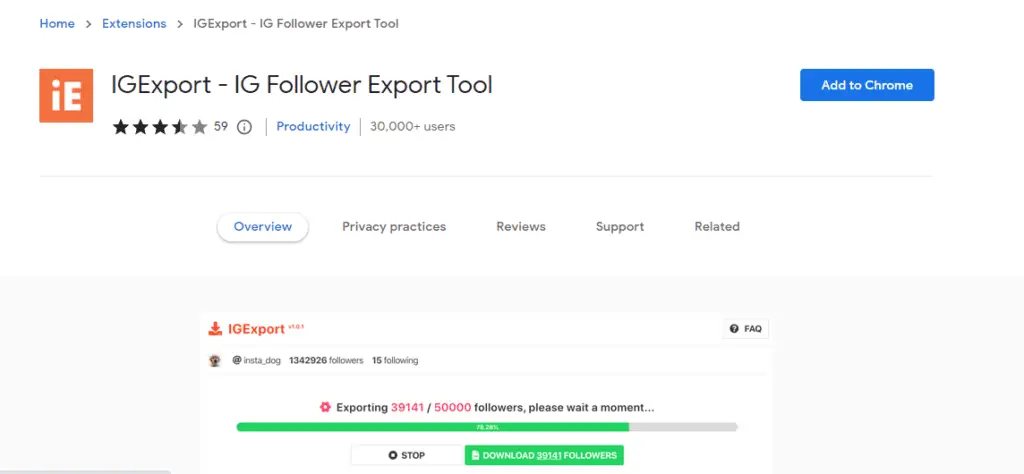 If all you need to do is target a user with less than 1k followers, you can use a free extension on Google Chrome (IGExport) that allows you to download and save IG followers to a CSV file.
This is a smart browser extension that you can use in downloading or extracting your IG followers and following list.
When thinking about powerful extensions and effective browser extensions that can extract Facebook friends lists along with a lot of other useful data, we can't overlook the IGExport that meritoriously works on public Instagram profiles to download follower lists.
Here are the steps to follow when using the Google Chrome IG Follower Export tool:
Enter an Instagram username
Select export type, whether following or followers list
Select to include the followers count
Finish the process by clicking the export button
Using Influencers Club
It isn't easy to find a good tool for targeting accounts with more than 1k+ followers. Some digital marketers rely on a service such as Influencers Club that collects social media data on individuals (in this case, their email addresses) for marketing purposes. You need to know that Influencers.club charges a small fee for emails you'll collect (which is one of the several data points the service can collect from the social media data.
If you're using the list of followers to do a simple cold email outreach or import custom audiences into Facebook, you don't need to pay for this service. But membership in the service is exactly what you need if there is a need to launch a commercial cold email marketing campaign or if you're interested in running Facebook Ads by using an email list to target a specific audience.
In essence, the service can get several IG followers' emails in seconds by scrapping the social media platform's database. All you'll need to do is share information about your competitors and any other site your target audience might visit. You will also be able to find emails from their extensive database of 200M Instagram profiles and even search for users by keywords in their bio. You will also get 28 much more detailed analytics for every IG user's email you get.
Can I Export My Followers List?
Currently, the Instagram social media channel doesn't allow users to export followers to excel. You still have the option to export followers to excel manually, or you could use an automated tool such as the IGExport of influencers Club to do the job for you. There are several other third-party tools available online that you may consider trying out. However, it's crucial to remember that IG forbids the use of tools that violate their terms and regulations and if you use one, there is a chance you might lose your account.
Knowing the Apps Approved on IG
If your app is a good fit for Instagram, it is easy to use. There are many people whose accounts are being hacked. Their accounts start following, liking, and commenting on other people's accounts' posts – without their knowledge or permission. And then, in some days, they notice that they are now following even more people – which they did not know! This can happen to anyone who uses a third-party app that Instagram does not officially license.
Apps and websites that you use to access your Instagram account can get access to your password. And if they have your password, they can like, comment, follow new users and unfollow some of your followers without your permission. So, the big question remains, whether you want to download your followers' list, use an analytics tool on your IG account, or personalize your experience in a certain way? These third-party tools will require you to log in to your account to approve accessibility. 
Here are three easy ways of knowing an app is approved by Instagram:
Step One: Any approved app uses the official Instagram login system. It's all part and parcel of Instagram's Rules and Policy to protect users. Therefore, it is incumbent upon all users to ensure that the login form on the apps they use to access their IG accounts are the ones approved officially by IG and not funny mimics of the original. Remember, some apps and websites are very sneaky. They mimic the login forms that are on Instagram. This means they can steal your account password and your own unique access token. Therefore, it's critical that you stay focused and very careful whenever you launch these applications or access these sites for the first time.
Step Two: It's important to note that the approved app will redirect you to Facebook to prompt you to log in with the Facebook platform, not the sneaky Instagram login form. So, if you don't see the official login form, avoid the app or the website to protect your sensitive personal data and prevent your IG account from a potential ban.
Step Three: always confirm by checking the "Authorized Apps" section. You can access this information on either your personal or private IG account settings.
Are the followers' download apps safe?
Instagram doesn't give other third-party applications access to its data and certain features. Therefore, the developers of these apps can maliciously gain access to the data by storing the usernames and passwords of users. The apps use a proxy browser session to mimic the activity of an Instagram user and manage to access the data of their followers.
By giving your login credentials to these applications, there are chances that someone, a malicious internet user or hacker, can misuse your account to do things you have not approved. Furthermore, some of these apps have yet to invest in the best server security, so hackers can quickly gain access to your login details if there is a server breach. And while it is not a big deal for someone to gain access to their Instagram account to access their followers' data, most users should be concerned because 80% of the people have the same login credentials that they use for their accounts on Facebook, Google, or even their bank accounts.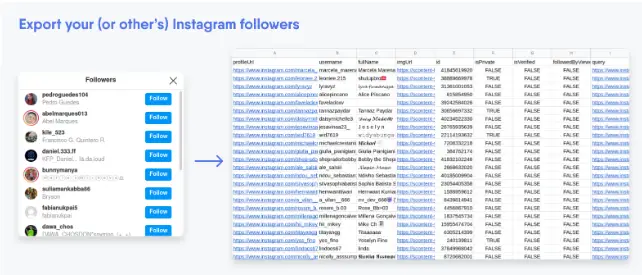 However, there are certain followers' download apps that are safe to use on your Instagram account. So, if you're transparent about why you want to use some of the genuine apps, you can truly benefit from their intuitive features as you enjoy socializing and marketing on the platform. For instance, you might be interested to know who unfollowed you or is concerned about your Instagram account's privacy status. Many popular apps work as an intermediary between you and other users of the service to keep track of who is following you and who is unfollowed.
It is difficult to track who your followers are and how many people have unfollowed you over time, considering the fact that the platform's API has changed massively. Many of these apps no longer function correctly on older versions of Instagram. It is safe to use some of these third-party apps to download your followers on Instagram and do a couple of other things on auto-pilot without compromising the safety of your account.
Wrapping Up
It's advisable to ensure you protect your Instagram audience or followers against Instagram policy changes. Even though IG doesn't offer social media influencers on the platform a solution to this, you can easily download/export your followers' list and export it safely and for free. While some apps found online promise to help users boost their popularity on the social media platform almost instantly, you should always beware of the fraudulent apps that may lead to getting a ban on the network! Growing your number of followers on Instagram is a gradual process that should be executed methodically.