Supply chain integration is the process of bringing onboard all the parties involved in the fulfillment of a product into a single system. It requires meticulous coordination and alignment to ensure every party is working toward achieving the same goal. The primary objective of supply chain integration is to ensure all the parts required for a product fulfillment show up where and when they are needed, preventing delays in the fulfillment process. As a result, you can eliminate a lot of wasted storage space, time, and much more. When done correctly, supply chain integration brings together parties that are usually at odds with a single focus of making last-mile delivery more efficient and cost-effective.
How Supply Chain Integration Works
The supply chain involves several materials and components, and integrating everything into a single system makes the process much easier for effective delivery. Fortunately, the technological boom across the globe has elevated the supply chain in massive ways. In fact, the demand for e-commerce deliveries grew by 25% during the COVID-19 pandemic as more people showed a growing inclination toward purchasing goods online. As a result, there was an increased demand for smooth delivery systems that satisfy the product delivery criteria for manufacturers and customers. 
Statistics from the Future Market Insights indicate that the supply chain management market is projected to register a CAGR of 11.4% with a market value of US$ 62.6 Billion by the end of 2031. Supply chain integration with technologies such as artificial intelligence, robotics, and machine learning will further make the overall last-mile delivery smooth and efficient. 
Strategies to Incorporate With Supply Chain Integration 
When it comes to supply chain integration within your company, you must bring together a few things. Here are some of the key strategies and steps you need to take during this process:
Choosing Vendors – You must choose the right vendors who can provide the necessary parts. Additionally, the vendor must be capable of supplying their products at the required time and place based on the terms of the supply chain.
Setting Up Internal Teams – You must establish an internal team to work together based on the needs of the overall supply chain system rather than their departments. Setting up procedures based on the bigger picture can help improve efficiency and eliminate waste.
Waste Elimination – Waste reduction is an important part of efficient supply chain integration. For example, a vendor or an internal team may need to physically relocate to efficiently complete the necessary work.
There are multiple other things involved with seamless supply chain integration. Once the initial integration is concluded, the system should run smoothly for subsequent years. More importantly, the initial stage of supply chain integration requires that all parties come together to discuss their abilities and needs. You should go over all the logistics in an open environment to give everyone an opportunity to express concerns, make suggestions, and overcome obstacles before implementing the plan in a production environment.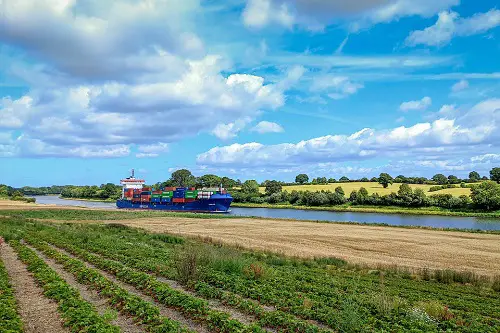 Embracing Technology in Last-Mile Delivery
Thanks to the pandemic, the demand for immediate delivery of everyday essentials increased tremendously, shaping the effectiveness of last-mile delivery. Contactless deliveries and sanitized products gained prominence in a bid to curb the spread of the virus. As a result, many companies increased their reliance on technology and seamlessly integrated AI to ensure safe and sanitized product deliveries.
FedEx, for example, redesigned and modified Roxo SameDayBot for efficient last-mile delivery. The technology uses artificial intelligence and multiple sensors to ensure safer deliveries. Roxo does not require human intervention, but under emergencies, remote operators may communicate with people through cameras, microphones, and speakers. This indicates how seamless supply chain integration can deliver products efficiently, irrespective of the location or design. 
Technology integration in last-mile deliveries also annihilates any space for mistakes by correcting the same at an early stage. Moreover, technology ensures companies meet demands that require immediate, quick, or on-time deliveries. Manufacturers also use mobile applications to track their products and reduce shipment costs by collecting information on routes using GPS systems in mobile applications. 
Additionally, machine learning is helping manufacturers to generate analytical reports to identify the problems during deliveries. As a result, they can gain knowledge to minimize the chances of delays during product delivery.
Wrapping Up
Overall, the complexities of last-mile deliveries continually evolve due to a heightened demand for contactless procurement processes and diverse end-user demands to ensure safe delivery. Many manufacturers are working on minimizing shipping costs by leveraging technology, including mobile applications for monitoring the real-time position of their items. Moving forward, artificial intelligence and machine learning will take center stage for supply chain integration and last-mile delivery. Their integration will ensure error-free deliveries, reducing the entire cost of shipment.
The future of last-mile delivery looks promising as every minute requirements like managing drivers, reducing traffic congestion, coordinating with customers, and the availability of accurate equipment for unloading items and safe delivery will be adequately addressed before dispatching goods. A good logistics software can simplify and streamline logistics, drive your bottom line, and improve customer satisfaction!