QuickBooks (QB) is undoubtedly the most popular accounting platform for small businesses. The platform offers affordable pricing and a wide range of accounting features used by thousands of small businesses across the globe. So, if you're a small business owner who prefers managing your accounting processes on your own, QuickBooks Online provides access to live bookkeepers and accountants. But is QuickBooks the best accounting software available on the market?
While a product like Intuit QuickBooks Online can serve numerous accounting needs, it's also the most frequently replaced accounting software on the market today. Recent buyer trends surveys indicate that 33% of upgraders come from QuickBooks. So, it's always wise to evaluate your unique accounting needs before you settle on QB Online. Read on to learn whether or not QuickBooks could be the best accounting software for your company.
Intuit QuickBooks Online Summary
Invoicing & Payments -Yes
Base Price – Yes
No. of Clients Supported – Unlimited
Free Trial – 30 days 
Robust Integrations – Yeas
Mobile App – Yes
Our Editor's Score – 9.5/10
With these impressive stats, QuickBooks is widely regarded as the top accounting software for small businesses. Whether it's the affordable pricing, the elite features, or the various pricing plans, QuickBooks is a dream accounting software platform for small businesses.
Key Features of QuickBooks
When our team at Smart Software Advice asked small business owners what the perfect accounting software should do, there was one resounding request: it should allow them to save time. If your business requires a top-notch accounting software, QuickBooks Online easily meets this requirement by providing the following features:
1. Exceptional Automations
QuickBooks Online makes it easier to automate tedious and time-consuming tasks and creates less stress for small business owners. You can automate sending payment reminders and recurring invoices, and sync data from credit card and bank transactions, and reconcile and categorize business expenses. This removes the tedious and time-consuming obligation of manually keying in each transaction.
2. Electronic Invoicing
Another time-saving feature is electronic billing. With QuickBooks, you can send invoices to customers electronically, track their payments, and accept electronic signatures. It is easy to send invoices to customers easily by emailing them to the appropriate email address. You can even track and accept payments online and have them signed electronically. Other benefits of using QuickBooks' invoicing function include:
Invoice emails are optimized for mobile devices so that customers who receive them on their smartphones can view them easily.
If you use Gmail, QuickBooks Online provides an app that allows you to create and dispatch invoices right your Gmail account. Payment information is automatically saved to both Gmail and QuickBooks. You can then create invoices and send them to customers using your Gmail account. 
Project tracking features that are available with the Plus plan enable you to bill customers incrementally as you complete each phase of a job or as you reach other project milestones. The software automatically calculates how much you have billed for a project based on the total cost that was estimated for the project.
3. Integrations
QuickBooks Online works with thousands of third-party applications, including those designed for e-commerce, customer relationship management, payment processing, time tracking, and more. This can save you time by connecting the software to your business apps. You can then import, export, and sync data between different applications in real-time.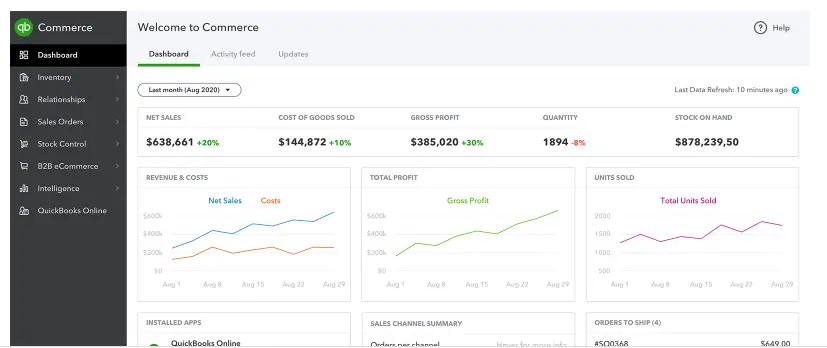 4. Built-in Reports
QuickBooks saves you from the tedious work of creating reports manually with the help of the software's built-in reports. This includes reports for the trial balance, general ledger, and 1099 transactions you need to report on taxes. You can save the reports you use most frequently as favorites, so they're available at the top of the Reports page automatically. Moreover, you can set up your business software to run reports periodically and email them to you. If you'd like them to run automatically, you can do so quarterly, monthly, weekly, or even daily. 
QuickBooks also offers excellent reporting functions you can achieve with any software company. The dashboard lets you easily review the overall health of your business based on key metrics. Additionally, it has clickable operations groups that enable you to look deeper into your business.
5. Automatic Backups
QuickBooks automatically creates and stores backup copies of all your important data, so you never have to worry about your records being safe and up to date.
6. Mobile App
QuickBooks includes iOS and Android apps for smartphones and tablets. They can do many things that QuickBooks does perfectly at your fingertips. QuickBooks Mobile Apps are a convenient way to manage your accounting processes on the go. Here are some of the things that the apps can do:
Take photos of all receipts and put them in a file for each expense.
You can easily create, customize, send and track invoices.
Accept payments from customers in person or online if they are using the Payments feature.
View customer details, add new customers, and message them on the go — all from the mobile app.
Reconcile transactions between the various accounts you have created and your customers. View your account balances and make necessary adjustments.
View your financial information, like your bank account balance and profit and loss report. You can even check on any due invoices.
It's easy to see why QuickBooks is considered the gold standard for small business accounting software. The company offers exceptional services to small businesses at an affordable price. QuickBooks Online is an exceptional option for small business owners because it includes all the features that big companies demand at an affordable price.
You will be amazed at the features included in the popular accounting software that small businesses can use. QuickBooks offers helpful automation, detailed reporting, and a mobile app that helps you do many accounting tasks quickly and easily from your phone.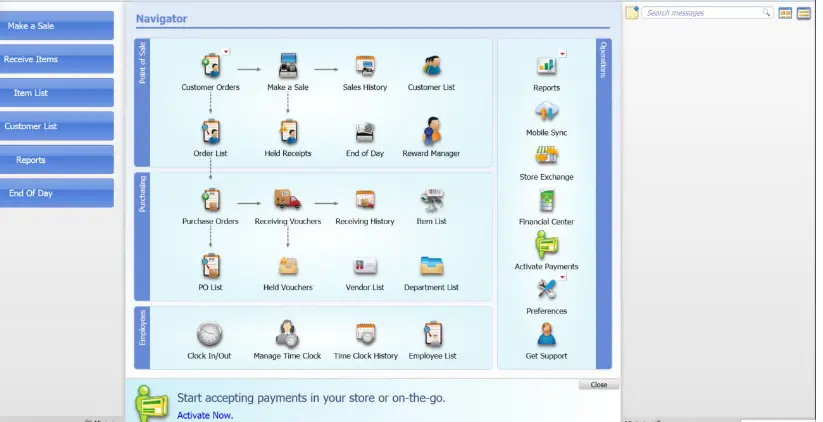 7. Affordable Pricing
QuickBooks Online is fairly priced and has several plans to meet the needs of different business types. You get a 30-days free trial of the program and can get 50% off your subscription for three months.
Here is a breakdown of the features included in the different plans.
QuickBooks Self-Employed: Self-Employed is geared towards businesses that hire freelancers and independent contractors. It costs $15 a month. You can send and track invoices and manage your personal and business expenses separately. You can also calculate taxes and track your miles. 
QuickBooks Self-Employed Tax Bundle: The Self-Employed Tax Bundle is priced at $25 per month but includes the features of the Self-Employed plan, as well as the ability to import all your financial data into TurboTax and pay estimated taxes online. The self-Employed Tax Bundle for businesses that hire employees from other companies is also available for $35 per month. This includes everything you need in the Self-Employed plan, plus access to a team of certified public accountants. You get all the features in the Basic and Advanced plans, plus access to a certified public accountant. 
QB Small Business: Small businesses start with the plan that costs $25 per month and allows one user to access all the features of the Basic plan, plus you get access to unlimited users. You can send estimates and invoices to customers, track your expenses, manage sales tax, and run basic reports. The Basic plan supports up to three users and costs $50 per month. It includes everything in the Essentials plan, plus the ability to create and share content with others. All the features from the Basic plan, plus invoice management and time tracking. 
QB Plus: The Plus plan supports up to five users and costs $80 per month. It is a great deal for smaller businesses because it offers additional features, such as the ability to track invoices and payroll, as well as automatic payments and customer support. You get all the features from the Basic plan, plus product and inventory management and the ability to track the profitability of projects. This is the most popular plan that users of QuickBooks Online choose. It is based on the assumption that you will manage more than one user.
QB Advanced: The Advanced plan supports up to 25 users and costs $180 per month. You get all the features of the Basic plan and up to 20 classes from Fathom. Everything in the Plus plan and one license for Smart Reporting powered by Fathom are included in the pricing of the plans. You get access to more than 20 classes, on-demand online training, and an account team that can help you manage your business processes.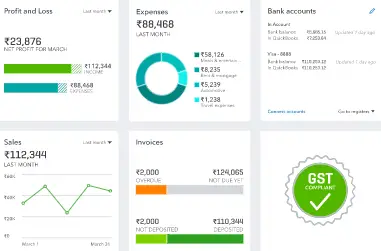 QuickBooks Live Full-Service Bookkeeping
QuickBooks provides customers with access to a real-time bookkeeper. It costs $500 for the first month to set up and clean up your QuickBooks accounts. QuickBooks Online lets you easily hire an accountant or bookkeeper. After the first month, customers pay based on the average monthly cost of running a small business. For example, if your company costs $0 to $25,000, it will cost you $200 per month for a live bookkeeper. Here's a breakdown of what these services cost:
If you spend between $0 and $25,000 each month, QuickBooks Live costs $200 per month. 
If your company's average monthly cost is $25,001 to $150,000, your monthly cost will be $400.
If you spend $150,001 or more each month, QuickBooks Live costs you $600 per month.
QuickBooks offers various plans that address the needs of entrepreneurs and small business owners. If you need to hire an accountant or bookkeeper, you can do that in QuickBooks Online.
Pros of QuickBooks 
QuickBooks is very easy to set up and use, which is great for busy business owners. After answering a few questions about your business, the software will automatically start working for you based on what you say. It's easy to log in to QuickBooks Online and perform certain tasks to get started. It's intuitive, and it looks good. We like that you can look at graphs and see your sales and income, expenses, and profit and loss statements. Besides, you can select a different date range when you create graphs that show different details of your business.
It's easy to create custom invoices and forms for your business. QuickBooks Online gives you multiple templates, and you can change the colors and fonts that are used on each template. We recommend watching the free QuickBooks Online demo to have a clear understanding of how QuickBooks works. It is smart to try out some of the programs that your accounting software offers before making a purchase.
One of the biggest advantages of using QuickBooks Online is that your accountant will love it. It has all the features that small businesses should have, and it also eliminates the need to learn the program from scratch since most accountants use QuickBooks already. If you use an outside accountant, you will not have any compatibility issues with their software since you can permit them to work with the same system.
Overall, there are a lot of benefits to using QuickBooks Online, including a fast, user-friendly interface that makes setting up the program very easy. QuickBooks Online makes things a lot easier for busy entrepreneurs. It's easy to get started and manage your business. Many accountants are familiar with QuickBooks, which means that collaborating with the software is easy.
Cons of QuickBooks
QuickBooks Online is an impressive accounting system that is easy to use and includes all the features most small businesses need to accomplish their accounting tasks efficiently. However, there are a few limitations to keep in mind, such as:
If you run multiple businesses, you'll need to buy multiple subscriptions.
Those who work for themselves won't be able to upgrade to one of the business plans. If you plan to start a business and hire employees, consider purchasing one of the small business plans.
It's important to remember that some plans limit the number of users who can access QuickBooks. If you have more than one business, you'll need to purchase more than one subscription.
Besides these limitations, QuickBooks Online meets the needs of most small businesses, giving you great value for your bucks.
How is QuickBooks Support and Customer Service?
QuickBooks Online offers several support channels to its customers. These support channels include phone, email, and chat support. You can access all these from the company's website. If you prefer to solve problems yourself, the support site also contains a searchable knowledge base of useful articles, videos, and guides. QB Self-Employed users can interact with a feature that acts as a virtual assistant that answers many of your questions and connects you to real-time support.
QuickBooks Alternatives
If you're not impressed by the QB features we've discussed above, there are a few popular QuickBooks alternatives you can try. It is possible to upgrade from QuickBooks only to discover that your business won't be able to benefit from the upgrade. You might need accounting software that is easy to use and has an affordable price, but you may dislike some of the online accounting programs because of their interface issues or lack of a mobile app.
We recommend that businesses look into other popular programs with good sign-up offers. This list of QuickBooks alternatives for businesses will vary by industry, but these are the most common options that companies may want to try out.
Dynamics GP: This is the most popular option for businesses to upgrade from QuickBooks.
Zoho Books: Zoho Books offers simple billing features and options to invoice customers easily.
GoDaddy Online Bookkeeping: This is another great software for small business owners.
Patriot Software: A great software for managing small business payroll.
The Verdict
QuickBooks Online from Intuit is undoubtedly our top choice as the best business accounting software for small businesses. It is affordable, features helpful functions, and enables small businesses to keep accurate accounts and send invoices easily. As a small business owner, you need software that would be useful for a variety of accounting functions and is scalable so it can grow with your company.
It must be easy to use and have features that simplify and save time by removing the need to enter data manually and by automating tedious accounting tasks. Additionally, you need software with a robust mobile app that allows you to monitor your business activities easily and do basic accounting tasks remotely. Intuit's QuickBooks Online is the best software that ticks all these boxes, making it excellent for small businesses.